7 Workplace Documents that Should Always be Translated into Spanish
There are an estimated 37 million Spanish speakers residing in the United States. This makes Spanish the second most popular language in the country. For many of these native Spanish speakers, English is a second language. Therefore, it's important to offer business documents that are translated into Spanish, so that employees can fully understand policies and procedures at your company. After all, language barriers greatly affect morale, productivity, and safety.
Here are seven vital employee and human resource documents that should always be offered in Spanish.
1. Employee Handbooks
Employee handbooks are the main resource employees are given that include information about the company policies, procedures, and culture. Because handbooks are often dense and filled with a large amount of relevant information for the job, it is a good idea to translate employee handbooks into Spanish. This helps people who speak English as a second language fully understand the way things work at your company and avoid HR pitfalls.
2. Safety Manuals
Does your company require employees to perform manual labor or to use large, heavy equipment that could potentially injure them? If so, you should make sure your safety manuals are thorough, accessible, and understandable for all employees.
According to the United State Department of Labor, 27.3% of people who work in the construction industry and 23.1% of people who work in the agriculture/forestry/fishing/hunting industry are of Hispanic or Latino ethnicity. With such a high representation of the Hispanic and Latino community, translating safety documents for these kinds of companies is a no-brainer.
3. Tax Documents
Tax documents are mandatory federal documents that assess the right amount of tax deductions your employees will receive. If people who are not completely fluent in English don't understand what the form asks for, they may fill something out wrong and get into trouble with the government. They could receive less pay than they should or even be accused of tax fraud. That's why it's crucial to make sure important information like this is as clear as it can be for your employees.
4. Safety Signs Around the Office
Safety in the workplace is essential. That's why precautionary signs are found all over many offices – you don't want your employees to get hurt while on the job. On-the-job accidents create a lot of issues for you, your business, and your employees. If you have a large Spanish-speaking population at your company, it's a good idea to translate safety signs into Spanish. This way crucial instructions are fully understandable to every employee.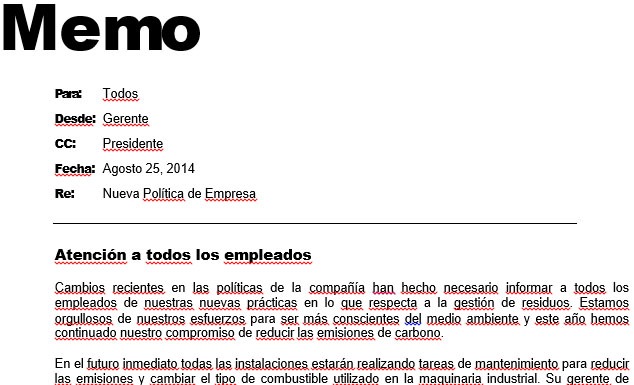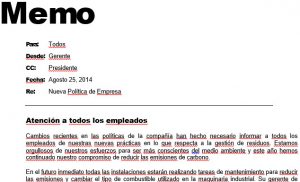 5. Flyers/Memos/Emails
Emails, flyers and other memos are a quick way to disperse information about what's going on at your business. Translating them into Spanish along with offering them in English creates additional clarity and transparency within your business environment. It is always good to keep people aware, and doesn't make a portion of your employees feel left out.
6. OSHA Forms
A lot of states create and implement their own health and safety programs, which are approved and monitored by OSHA. They also offer a lot of Spanish-language resources in various states so that these people know their rights. Many companies don't want anything to be lost in translation and want all their employees to have an equal understanding of how they should be filling out injury and illness incident reports.
7. Healthcare Forms
Healthcare forms, like other workplace documents, need to be translated into Spanish so native speakers can be sure to fill out these forms accurately and easily. If they are filled out incorrectly, even if it is by accident, legal and ethical issues may arise.
Need help translating business documents?
Our specialized translating team can help you translate important business documents to Spanish accurately so that everyone has an equal opportunity for understanding. Call us at 919-995-2986 or request a quote online today!