Spanish Business Document Translation Services
Business-critical documents are too important to haphazardly run through an automated tool like Google Translate. A human translator is required to maintain proper context, ensure that cultural relevancy doesn't get lost in translation, and account for differences in dialect, sentence structure, and other factors that online tools are notorious for overlooking.
Organizations nationwide trust our team of native Spanish-speaking translators to deliver professional, accurately translated documents at an affordable rate.
Benefits of Translating Your Documents
Business documents, contracts, and employee handbooks can be difficult to understand if your target audience is not proficient at reading in English. After all, how can you knowingly sign a document if you are unable to read what you are agreeing to?
Our Spanish business translation services help you to…
Effectively target the Hispanic audience
Tap into a growing segment with a buying power of $1.38 trillion
Form a genuine connection with Hispanic consumers
Improve communication to Spanish-speaking employees
Build professional relationships with Hispanic workers & peers
Some of the documents we translate include:
Brochures, Analyst Papers, Datasheets, Case Studies, FAQs, Technical Data, Business Presentations, Sales Presentations, Product Positioning, Brand Messaging, Branding Guidelines, Whitepapers, Video Transcripts, Process Documents, Operations Manuals, Ad Copy, Newsletters, Email Campaigns, Webinars, Company Profile, Contracts, Proposals, Memos, Letters, Business Plans, Marketing Strategy Docs, Sell Sheets, Reference Guides, Training Materials, On-boarding Documents, Human Resources Documents
Let us help you realize the value of translating your documents to Spanish.
What Makes Us Different?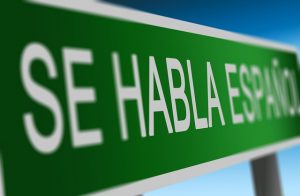 Our team of native Spanish-speakers has helped international corporations, public sector organizations, national enterprises, and small and midsize businesses across all industries.
As a Mexican attorney and with a graduate degree in HR Management (U.S.), head translator Elsa Jiminez understands the legalize and attention-to-detail that is required when translating business documents.
Request a Free Quote for Spanish Translation Services
English to Spanish Raleigh has helped numerous businesses translate materials from English to Spanish. Inquire about our Spanish business translation service today!