3 Reasons to Stop Using Google Translate
If you have a business document, paperwork, or an employee manual that is originally written in English and you need it translated into Spanish, you may think using Google Translate is a simple, inexpensive solution. You wouldn't be wrong – it is simple and it's free.
The problem is, your English to Spanish translation may not be accurate. While typos, incorrect words, and grammar errors are embarrassing and look unprofessional, in certain cases, incorrect translation can cause a legal issue. In the case of translating an employee handbook where the wrong words can put someone at a safety risk or give them wrong information, you can't afford mistakes. Let's look at some reasons why you should skip Google Translate for your important documents and paperwork and hire a bilingual translator in Raleigh.
Professional English to Spanish Translation Will Be Grammatically Correct
With translating software, the word database is created from existing online translations. Because these translations can come from pretty much anywhere or anyone there is no quality control for what is grammatically correct. While some errors may be small and barely noticeable, there are times when an entire sentence structure is out of order and the text is impossible to understand.
A professional English to Spanish translator in Raleigh has the expertise and knowledge to ensure an error-free, grammatically correct document.
Google Translate Doesn't Provide Context
In communication, both written and spoken, context is key. Google Translate often provides specific, literal translations for words and phrases which can be great, but when someone uses a metaphor or an idiom, the returned translation can be nonsense. Instead of creating a word-by-word translation, a professional English to Spanish translator is able to take the context of the document and translate any idioms or figures of speech into an equivalent phrase.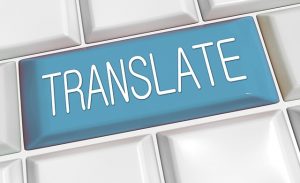 This translation fail is a great example of the phrase "lost in translation." The common English term "beat around the bush" translates into Dutch as "Versla de bush," but when it is put back in English Google translates it as "defeat the bush." Same general words, very different meanings.
Google Translate Can Glitch
Even in simple communication, Google Translate is not reliable. Machine translation, like any automation, gets bugs and glitches, sometimes causing it to return incorrect information. Because the algorithm scans online information looking for patterns in millions of resources, if it picks up words in a different context, the translation will come back with errors.
It's also important to note that users can manually suggest alternative translations or be a part of the Google Translate Community in which users volunteer to translate new words and phrases or validate existing translations.
In 2015, Google had to manually fix bugs in their algorithm after the phrase "Russian Federation" kept translating as "Mordor" from Lord of the Rings due to user feedback, and "Russians" was translated as "occupiers."
Use a Professional English To Spanish Translator
Google Translate isn't all bad. If you see a word you don't know or come across a website written in a different language, it's a great tool! However, you don't want to risk your business documents, your own website, or other important, highly visible pieces to a machine with a history of errors.
With a professional English to Spanish translator, you are working with someone who has an expert-level grasp of both English and Spanish. Not only do they excel in grammar, sentence structure, and vocabulary, a professional translator understands nuance and context, ensuring that the overall tone and message of the document are maintained, in addition to the words.
While using Google Translate or other machine translators is free and fast, in the long run, and incorrectly translated documents can lead to mistakes and legal issues that are much more expensive and time-consuming than hiring a bilingual professional.
We Provide Accurate, Affordable English to Spanish Translation
With a rapidly growing Spanish-speaking population, business meetings, employee handbooks, and so much more have to be written in both English and Spanish. Make sure you're providing accurate information with correctly translated materials. At English to Spanish Raleigh, we guarantee reliable, accurate, impeccable translation to businesses and organizations at an affordable price! Request a quote or call us at 919-995-2986.