January 6th brings a second Christmas for Hispanic Americans (Three Kings Day)
Santa doesn't visit Spain.
No, it's not because the children haven't been good this year. In Spain, the spirit of generosity and joy, popularly represented in America by Santa, manifests itself in the visit of the Three Wise Men.
The Spanish cultural holiday tradition follows the Biblical tale closely, as children flutteringly wait for the Three Wise Men, Melchoir, Caspar, and Balthazar—who brought gifts to baby Jesus himself–to sweep through their windows with magical presents and candy.
Some holiday traditions in Spain may seem familiar to Americans, but with slight cultural twists. Instead of hanging stockings over the fireplace, children leave freshly-polished shoes out to collect candies. More naughty children might be startled to find pieces of coal nestled in the soles. But the sweet surprise is made of sugar. Kids also write letters to the Three Wise Men, and leave walnuts, bread, and even Cognac out for the visiting Kings.
The holiday traditions span all the way until Epiphany, the climactic celebration of the revelation of Jesus as the Son of God, on January 6th. On this, El Día de los Reyes (Day of Kings, or Three Kings Day), families memorialize the day the Three Kings found baby Jesus and bestowed their fine gifts.
Often, entire neighborhoods commune together, with extended family and even co-workers gathering for vibrant parades, street carnivals, and caroling. Epiphany's celebration truly highlights the profound spirituality and community bonds considered so important to the Spanish culture.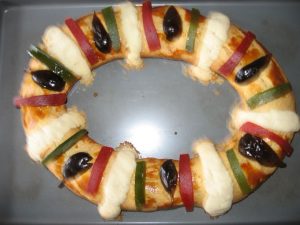 The Rosca de Reyes, perhaps more recognizable in American culture as the King's Cake eaten during Mardi Gras, is a key element to the familial celebration. Each person at the table carefully searches their slice of Rosca de Reyes for a small token, such as a plastic baby, which represents the infant Jesus. This lucky person is crowned King or Queen of the party. They're given the honor of cooking tamales or a warm stew for their neighbors on February 2nd, the Día de la Candelaria. They may also bring their toy to church to be blessed, a representation of baby Jesus being presented at the temple.
With games, gifts, music, and joyful children, Spain's cultural tradition is steeped in church history. From children caroling for sugars and sweets, to homemade meals shared by neighbors, the Spanish customs reflect a love for community and a respect for days of yore. It's easy to see why American traditions borrowed from Spain as part of an eclectic melting pot of cultures.
---
Maintaining cultural relevancy is the key to accurate translation services. It is what separates "good" translation from "poor" (and potentially harmful) translation. To learn more, or for a free quote on your next English to Spanish translation project, please contact us using the form below.