Acción de Gracias: How Does Mexico Celebrate Thanksgiving?
Thanksgiving is more than a federal holiday, it is a time when families come together to celebrate all that they are grateful for. For many Americans in the United States and Canada, this means gathering around a big Thanksgiving feast, but many of us often wonder, how does Mexico celebrate Thanksgiving? For Latino families, Thanksgiving can be quite different.
Join our Spanish translation experts from English to Spanish Raleigh as we take a look at how Latinos celebrate Thanksgiving in Mexico.
Why is Thanksgiving Celebrated in America?
The national holiday which is celebrated on the fourth Thursday of November, has roots in various traditions and customs. The first Thanksgiving holiday began as a way for early European settlers to give thanks for a successful harvest, and for some Native American tribes to give thanks for a plentiful hunt. Over time, Thanksgiving also became a day to commemorate the friendship between colonists and Native Americans and to reflect on the blessings in one's life.
In the present day, Thanksgiving is an official holiday in the U.S. and Canada when federal employees and private businesses take an extended leave from work. The holiday break often includes gathering with family members and friends on the last Thursday in November to feast on traditional foods such as roast turkey, mashed potatoes, stuffing, and pumpkin pie.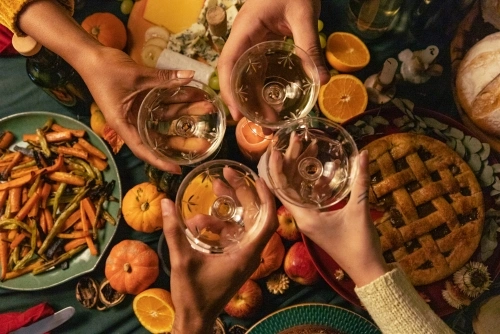 The Thanksgiving holiday is also the first day of an extended shopping holiday known as Black Friday, which is a weekend full of special deals that help kick off the Christmas Shopping Season. Despite its complicated history, the Thanksgiving holiday remains a cherished American tradition that helps us come together as a nation and appreciate all that we have.
How Does Meixco Celebrate Thanksgiving?
Thanksgiving is a culturally significant federal holiday for many Latin American countries as well, with Thanksgiving-esque traditions dating back to the colonial era. In Mexico, Thanksgiving is referred to as Día de Acción de Gracias, and families gather for a traditional Thanksgiving meal with turkey, tamales, and mole.
In other Latin American countries such as Colombia and Venezuela, Thanksgiving day focuses more on religious roots with Thanksgiving Masses in churches followed by a traditional, celebratory feast. Puerto Ricans also have their own tradition of ensuring thanks are given to loved ones by presenting Thanksgiving cards or gifts that say "Gracias" on them.
Many Latinos have a tradition of making an altar to display pictures of deceased loved ones, as well as food and other items that they enjoyed in life. Some families even get together for a game of football or go on a nature hike as a relaxing, family-focused way to enjoy the national holiday. Others who may not have a way to celebrate on Thanksgiving Day may spend time volunteering at a local soup kitchen or food bank. While it's clear that Thanksgiving is not nationally celebrated in Mexico like Cinco de Mayo or other traditional holidays, the people of Mexico still resonate with the messages that surround Thanksgiving.
How Does Mexico Celebrate Thanksgiving with Food?
Despite Thanksgiving not being a traditional Mexican holiday, as it is in the United States and Canada, many Mexican families and communities have adopted certain aspects of Thanksgiving as a way to celebrate and give thanks. Many Mexicans celebrate Thanksgiving by incorporating elements of Mexican cuisine into their Thanksgiving meal.
Traditional Thanksgiving Feast with a Latin American Twist
Just like in the United States, a festive Latino Thanksgiving typically centers around a bountiful and delicious meal. Families gather to enjoy a feast that often includes roasted turkey, stuffing, cranberry sauce, and mashed potatoes. However, you might also find Latino-inspired Thanksgiving dishes or twists on traditional favorites, such as tamales, empanadas, arroz con gandules (rice with pigeon peas), or roasted meats with flavorful Latin American marinades and spices.
Dinner Time Starts Late
American Thanksgiving Dinner is likely served earlier in the day, or at a typical dinner hour such as 5pm or 6pm. If you are attending a Latino Thanksgiving, dinner will be served later in the evening, around 9pm. That's not to say that you won't be chowing down on goodies flowing from the kitchen on a near-constant basis, but it just takes time to get the family to settle down around the table for proper dinner. After all, there's so much dancing and cheer going on at a Mexican Thanksgiving celebration, who wants to sit still?
What Dishes Does Mexico Celebrate Thanksgiving With?
A notable difference between the Thanksgiving Day traditions found in American culture versus the Hispanic community is the food served. Hispanic cuisine offers a range of delicious and unique flavors that can really elevate your Thanksgiving spread.
Tamales are a common choice at any Latino celebration, made with corn masa dough filled with meats, vegetables, or fruits, and paired with a spicy salsa verde to make for an interesting twist on traditional dishes. You may also see a Hispanic-style stuffing, known as "pastelón," on the table that incorporates plantains cooked with onions and spices, as well as any variety of ground meat or veggies.
Additionally, no Latino Thanksgiving is complete without a selection of Hispanic desserts. Flan, a creamy custard topped with caramel sauce, will have your guests begging for seconds. Or if all else fails, bring churros– fried dough dusted with sugar and cinnamon– served with a warm chocolate dipping sauce for the perfect ending to your Thanksgiving meal.
How Does Mexico Celebrate Thanksgiving with Music?
People in Mexico choose to incorporate music into all celebratory events, and Thanksgiving celebrations are no different.
Lively, Festive Celebrations
One of the first things people notice when discovering their answer to the question, "Does Mexico celebrate Thanksgiving?" is that Latino Thanksgiving is more of a festive atmosphere than a more traditional dinner you might experience in many North American homes. Mexican families may play traditional Latin American music, such as salsa, merengue, cumbia, or bachata, and guests might join in the dancing or enjoy a mini dance party after the meal.
Dancing Takes Precedence Over Football
It's not that Latinos don't enjoy a great football game, it's just that Latino Thanksgiving is seen as a day of celebration that calls for music and dancing instead of sitting on the couch watching the game– though we love a day filled with quality couch time, when loved ones are surrounding us we love to dance and engage with one another. You will find a lot of Mexican families watching the game highlights tomorrow– today we salsa dance instead.
How Does Mexico Celebrate Thanksgiving with the Community?
Thanksgiving is not a traditional Mexican holiday, so community-wide celebrations for Thanksgiving are not common throughout Mexico. Whereas in the States you will see big events like the Macy's Day Parade, in Mexico you may see smaller community events targeted toward tourists from North America who are visiting for the holiday. However, in some areas and among certain communities, people still may come together to celebrate Thanksgiving in various ways.
Community Meals
In some Mexican communities, local organizations, churches, or volunteer groups may organize Thanksgiving dinners or potluck-style meals. These events are often open to the public, and attendees can share a meal and enjoy each other's company. It's an opportunity for those who may not have family nearby or who are in need to come together and celebrate the holiday.
Food Drives
Around Thanksgiving, charitable organizations and community groups in Mexico may organize food drives to collect donations of non-perishable food items. These donations are often distributed to those in need, helping to ensure that everyone can enjoy a meal on the Thanksgiving holiday.
Volunteer Opportunities
Some people in Mexico choose to celebrate Thanksgiving by giving back to their communities. They may volunteer at local shelters, food banks, or community centers that provide meals or assistance to the less fortunate during the holiday season. Since giving thanks and expressing gratitude is often at the heart of Thanksgiving celebrations, Mexico's communities, much like communities in the United States, will choose to spend this holiday time giving to those less fortunate or who do not experience the blessings they have in their lives.
What Cultural Influences Does Mexico Celebrate Thanksgiving With?
Thanksgiving, a quintessentially American holiday, has made its way into the lives of some Mexicans, particularly those living in the United States. Whether Mexicans are celebrating Thanksgiving in the States or in Mexico, you can be sure they will do so with Latin cultural influences that honor their Mexican heritage.
Incorporating Mexican Decorations
Mexicans celebrating Thanksgiving often find creative ways to incorporate elements of Mexican culture into their festivities. They may adorn their Thanksgiving tables with colorful Mexican tablecloths, traditional pottery, or papel picado (decorative paper banners) featuring intricate designs. These decorations not only add a vibrant touch to the celebration but also serve as a reminder of their Mexican roots.
Mexican Traditions
As discussed previously, music plays a pivotal role in Mexican culture, and it can seamlessly find its place at a Thanksgiving gathering. Some Mexicans may choose to include mariachi music, ranchera songs, or other traditional Mexican tunes alongside American holiday classics. In doing so, they create a harmonious blend of melodies that resonates with their dual cultural identity. Additionally, some families may integrate Mexican traditions, such as the breaking of piñatas or the sharing of pan de muerto (Day of the Dead bread), into their Thanksgiving celebrations, adding a distinctly Mexican flavor to the holiday.
How Does Mexico Celebrate Thanksgiving Through Gratitude?
When considering the question "Does Mexico celebrate Thanksgiving," it's important to remember the core values of the Mexican people align closely with the meaning of Thanksgiving. While Thanksgiving itself is not rooted in Mexican tradition, the concept of expressing gratitude is universal. Many Mexicans, whether they have adopted Thanksgiving or not, appreciate the idea of setting aside a moment to reflect on their blessings and acknowledge the positive aspects of their lives. This shared sentiment transcends cultural boundaries and resonates with the core spirit of the holiday.
Prayers, Speeches, and Sharing
Mexicans may incorporate various ways to express their gratitude. This can include heartfelt prayers, speeches, or simply going around the table and sharing what each person is thankful for. Whether it's a prayer in Spanish, English, or a blend of both, the act of expressing gratitude reinforces the significance of the holiday and fosters a sense of unity among family and friends.
Familial Expressions of Thanks
Mexican families often come together for special gatherings and meals on various occasions throughout the year. Whether it's a birthday, holiday, or simply a Sunday dinner, it is customary for family members to express their gratitude for one another's presence and support. Thanksgiving provides an additional opportunity for families to come together and share their thankfulness for the love and bonds that hold them together.
English to Spanish Raleigh Wishes You a Feliz Día de Acción de Gracias!
The team at English to Spanish Raleigh wishes you a Feliz día de acción de gracias– or Happy Thanksgiving– no matter how you choose to celebrate it!
Our English-to-Spanish translation agency in Raleigh, NC is on a mission to help you reach Hispanic consumers with accurate, fast, culturally relevant Spanish translation services. Our native Spanish-speaking translators offer professional services for business document translation, website proofreading, and more.
Let us help you to effectively target this valuable audience by contacting us today. Give us a call at 919-629-0020 or fill out the form below to get started.
Contact a Translator
Talk with a native Spanish-speaking translator about your next translation project.