Acción de Gracias: How Latinos Celebrate Thanksgiving
Thanksgiving, is more than a federal holiday, is a time when families come together to celebrate all that they are grateful for. For many Americans, this means gathering around a big Thanksgiving feast. But did you know that for Latino families, Thanksgiving can be quite different? In this blog post, we will take a look at some of the most popular American holidays and how Latinos celebrate them. You may be surprised by some of the traditions!
Why is Thanksgiving Celebrated in America?
A national holiday which is celebrated on the fourth Thursday of November, has roots in various traditions and customs. The first Thanksgiving holiday began as a way for early European settlers to give thanks for a successful harvest, and for some Native American tribes to give thanks for a plentiful hunt.
Over time, Thanksgiving also became a day to commemorate the friendship between colonists and Native Americans and to reflect on the blessings in one's life. In present day, Thanksgiving is an official holiday that federal employees and private businesses take an extended leave from work. The holiday break often includes gathering with family members and friends on the last Thursday in November to feast on traditional foods such as roast turkey, mashed potatoes, stuffing, and pumpkin pie.
The national holiday is also the first day of an extended shopping holiday known as Black Friday, which is a weekend full of special deals that help kick off to Christmas Shopping Season. So despite its complicated history, Thanksgiving holiday remains a cherished American tradition that helps us come together as a nation and appreciate all that we have.
How Do Latinos Celebrate Thanksgiving?
Thanksgiving is a culturally significant federal holiday for many Latin American countries as well, with Thanksgiving-esque traditions dating back to the colonial era. In Mexico, Thanksgiving is referred to as Día de Acción de Gracias, and families gather for a traditional Thanksgiving meal with turkey, tamales, and mole.
In other countries such as Colombia and Venezuela, Thanksgiving day focuses more on religious roots with Thanksgiving Masses in churches followed by a traditional, celebratory feast. Puerto Ricans also have their own tradition of ensuring thanks is given to loved ones by presenting Thanksgiving cards or gifts that say "Gracias" on them.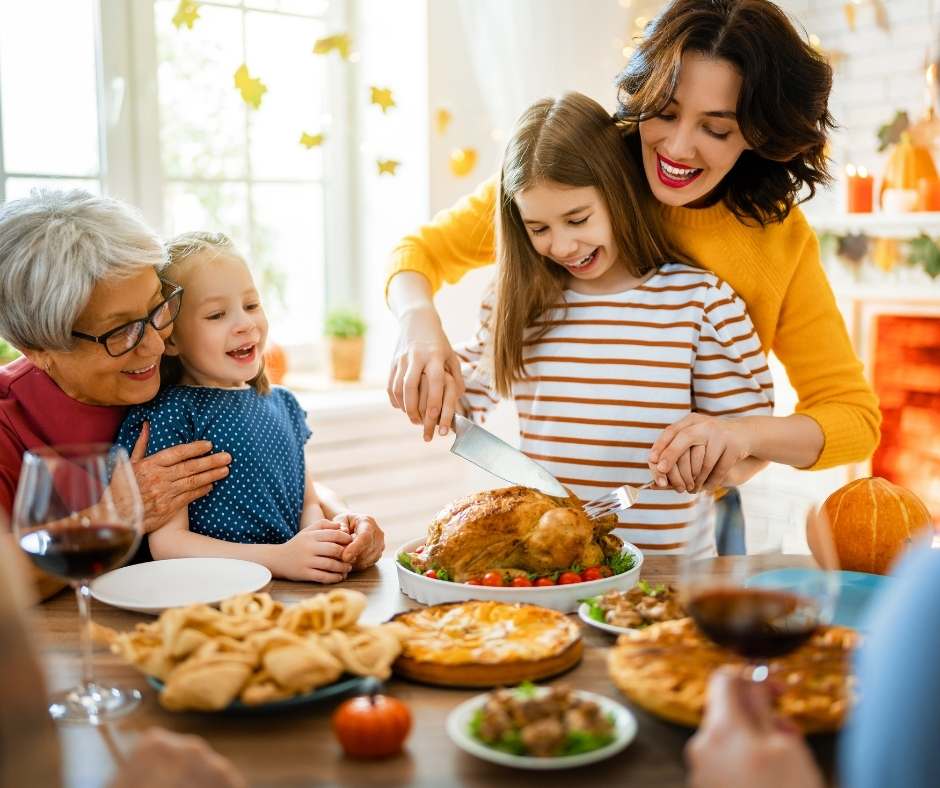 Many Latinos have a tradition of making an altar to display pictures of deceased loved ones, as well as foods and other items that they enjoyed in life. Some families even get together for a game of football or go on a nature hike as a repeating way to enjoy the national holiday. Others who may not have a way to celebrate on Thanksgiving Day may spend time volunteering at a local soup kitchen or food bank. Check out some of the most popular Latino Thanksgiving traditions below:
Prepare to party
The first thing you will notice about Latino Thanksgiving is that it is more of a festive atmosphere than a more traditional dinner you might be used to over at your great-aunt's house. Though, even while dancing to bachata music, family is still one of the center pieces in any lively celebration.
Dinner starts a little later
American Thanksgiving Dinner is likely served earlier in the day, or at a typical dinner hour such as 5pm or 6pm. If you are attending a Latino Thanksgiving, dinner will be served later in the evening, around 9pm. That's not to say that you won't be chowing down on goodies flowing from the kitchen on a near constant basis, but it just takes time to get the family to settle down around the table for proper dinner. After all, there's so much dancing and cheer going on! Who wants to sit?
Music > NFL
It's not that Latinos don't enjoy a great football game, it's just that Latino Thanksgiving is seen as a day of celebration that calls for music and dancing instead of sitting on the couch watching the game (though we love a day filled with quality couch time!). Check the score and watch the highlights tomorrow. Today, you will salsa dance!
The Best Hispanic Dishes To Serve on Thanksgiving
A notable difference between the Thanksgiving Day traditions found in American culture verses the Hispanic community, is the food served. Hispanic cuisine offers a range of delicious and unique flavors that can really elevate your Thanksgiving spread. Tamales a common guest at any Latino celebration, made with corn masa dough filled with meats, vegetables, or fruits, paired with a spicy salsa verde make for an interesting twist on traditional dishes. You may also see a Hispanic-style stuffing, known as "pastelón,"on the table that incorporates plantains cooked with onions and spices, as well as any variety of ground meat or veggies.
And no Latino Thanksgiving is complete without a selection of Hispanic desserts. Flan, a creamy custard topped with caramel sauce, that will have your guests begging for seconds. Or if all else fails bring churros – fried dough dusted with sugar and cinnamon – served with a warm chocolate dipping sauce for the perfect ending to your holiday meal. Give a little extra thanks by introducing Hispanic dishes to your Thanksgiving table this year. Your tastebuds will thank you. Check out this blog post for Latino Thanksgiving recipe ideas.
What Other Popular American Holidays Do Latinos Celebrate?
Thanksgiving is a legal holiday that has become deeply entrenched in the American cultural fabric, and Latinos have fully embraced it as well. Just the same, Latino families have adapted to celebrate most all popular American Holidays. The holidays may hold different importance and meaning for Latino families, but they often involve similar traditions such as gathering with friends and family, sharing food, and exchanging gifts. See how the holidays may different for the two cultures below.
Christmas
Christmas, like in America is a major holiday in Hispanic culture, with celebrations beginning as early as December 16th and lasting until January 6th. One tradition practiced by many Hispanic families is the posada, where neighbours gather to reenact Mary and Joseph's search for a place to stay before Jesus' birth. On the evening of Christmas Eve, children often receive gifts from their Christian counterparts – the Three Kings, rather than Santa Claus. They also enjoy dinner, called la Nochebuena, typically features traditional dishes such as tamales, pavo (a type of turkey), arroz con leche (rice pudding), and ensaimadas (a type of pastry).
Hispanic communities then come together in celebration on Christmas Day, attending mass and enjoying time with family and friends. Whether participating in religious traditions or exchanging gifts, Hispanic culture places a strong emphasis on togetherness during the Christmas season. From posadas to deliciously festive meals, Hispanic cultures have many unique ways of celebrating this joyful holiday.
July 4th (American Independence Day)
While Fourth of July is typically celebrated with barbeques, fireworks, and patriotic parades, Hispanic families often add their own traditions to the holiday. For many Hispanic families, Fourth of July festivities are combined with celebrations for Christmas in Puerto Rico, known as the "Christmas Season." Families often gather for large feasts, complete with traditional Hispanic dishes such as arroz con gandules (rice with pigeon peas) and lechon asado (roast pork).
Fireworks are also popular among Hispanic families, and some may even set off fireworks on Christmas Day as well as on Independence Day. In addition, Hispanic communities may host their own parades or carnivals to celebrate Hispanic culture and heritage alongside American independence. No matter how it's celebrated, the Fourth of July is a time for coming together as a community and celebrating freedom for all Americans.
Halloween
Halloween may have originated in Europe, but Latinos have made it their own with unique twists on this holiday. In Mexico and some parts of Latin America, people often celebrate the Day of the Dead, or Día de los Muertos, a holiday to honor deceased loved ones. This celebration often includes creating altars filled with offerings such as food, flowers, and personal belongings.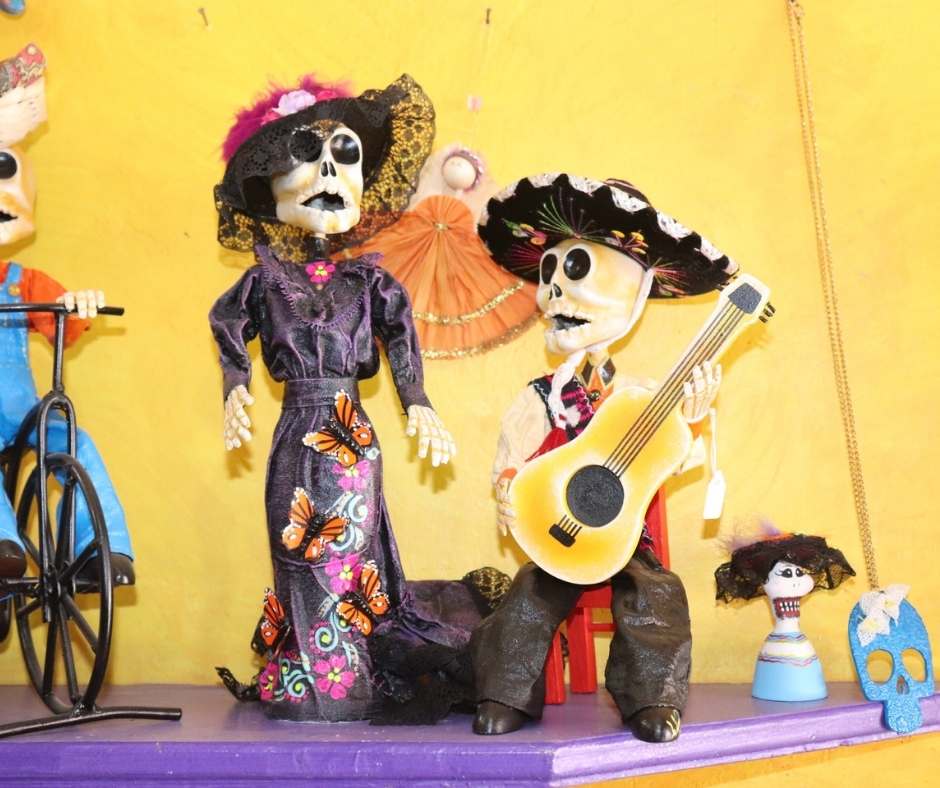 Many Latinos also combine traditional Halloween costumes and activities with elements from their culture, such as dressing up as la Calavera Catrina, a skeleton dressed in elegant clothes that is a symbol of death in Mexican culture. Latinos also sometimes celebrate El Día de las Brujas on November 1st – the day for witches – where children dress up as witches and go door to door collecting candy and money. Overall, Latinos bring their own touch to Halloween and make it a vibrant celebration for all. Learn more about Día de los Muertos here!
Now You Are Ready To Enjoy Your Thanksgiving Celebration!
Now that you know all about Hispanic Thanksgiving history and traditions, the next time you are celebrating national Thanksgiving Day or any other American holiday, remember that there are many different ways to do so. Whether you are gathering around a big feast or making an altar to remember your ancestors, take some time to learn about the traditions of Latino families as you celebrate this popular federal holiday. The team at English to Spanish Raleigh wishes you a Feliz día de acción de gracias (Happy Thanksgiving) no matter how you choose to celebrate it!
Our English to Spanish Translation Agency in Raleigh is on a mission to help you reach Hispanic consumers with accurate, fast, culturally relevant Spanish translation. Our native Spanish-speaking translators offer professional services for business documents, books, voiceovers, and more. Let us help you to effectively target this valuable audience by being your English to Spanish translation agency of choice!
Contact a Translator
Talk with a native Spanish-speaking translator about your next translation project.