4 Ways to Reach the Spanish-Speaking Audience on YouTube
YouTube is a global platform. In fact, over 60% of YouTube views come from a non-English speaking audience, many of whom are native Spanish speakers. That's a huge audience! Are you optimizing your YouTube videos to reach this global audience?
Here are four ways you can reach the Spanish-speaking audience on YouTube:
1. Translate Your Video Captions into Spanish
Adding captions to your video makes them accessible to the hearing impaired, so you should already be doing this. Be sure automatic captions are turned on or upload on your own. You can also include a second language in your captions. You can do this by using Google Translate or the built-in translator tools provided by YouTube. There is also an option to reach out to your community to provide translations. By enabling Community Contributions. You can find this option in Advanced Settings. However, for the most accurate translation, we recommend hiring a professional English to Spanish translator.
2. Add Spanish-language Meta-data
If your title, description, and tags are only in English, the Spanish-speaking audience is unlikely to find your video. Even if they do, if there's no indication that there are Spanish captions, they may simply pass on watching it. Include the Spanish translation of the title, description, and tags on your YouTube videos to signal to this audience that this content is for them too. If you plan to include Spanish captions in all of your videos (and we hope that you do), you should also translate your Channel description as well as Playlist titles and meta-data.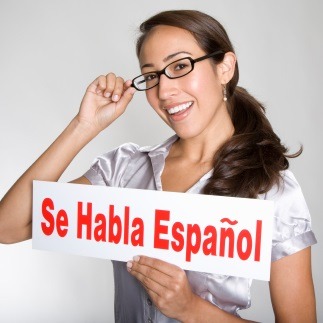 3. Reply to Comments in Spanish
If you are actively engaging a Spanish-speaking audience, they are sure to interact with your videos by leaving comments. Be prepared to respond to these comments in Spanish. If you do not speak Spanish, enlist a Spanish-speaking employee to help or use Google Translate. However, it should be noted that Google Translate isn't always reliable.
4. Include a Spanish Voice Over or Narration
Native Spanish speakers love hearing their own language spoken aloud! Creating YouTube videos that specifically cater to the Spanish-speaking audience by using a professional Spanish Voice Over and Video Narration Service show dedication to the community and are sure to increase your global audience.
Contact Your Spanish Translation Company Today
The professional translators at English to Spanish Raleigh provide translation services for video captions, websites, and documents. We also offer professionally trained voice-over talent.
If you would like us to provide voice-over work for your YouTube videos or advertisements, please call us at 919-995-2986 or request a quote online today, below!
---