7 Reasons to Translate Your Website into Spanish
Your English Website Is Losing Revenue.
According to the Pew Research Center, there are 890,000 Hispanics living in just North Carolina, alone. Many American Hispanics speak Spanish as their first language.
That's a large audience that you could be missing out on if your website is only available in English. Not to mention, Spanish-speakers usually have their browser settings in Spanish (versus English), which is much less likely to return your English web page in Google's search results.
Sure, Google Translate is available, but oftentimes it's not sufficient and contains inaccuracies, which is not good for use in business and has resulted in many legal problems for some unfortunate companies. It also fails to capture the cultural relevancy factor that a human, professional translator can.
Bottom line: Companies that do not offer Spanish versions of its website are much less profitable.
7 Reasons For Translating Your Website To Spanish
A professional English to Spanish website translation is far more reliable and can do wonders for your business, particularly if you have an e-commerce website that ships internationally or if you are in an industry that attracts Spanish-speakers.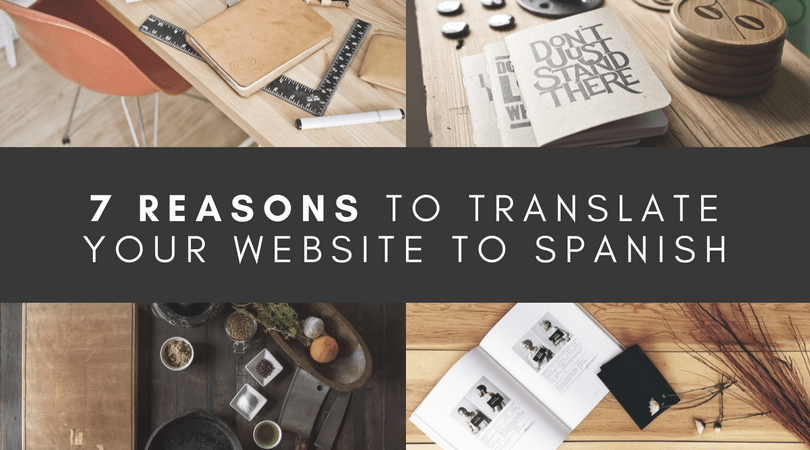 Here are seven reasons why translating your website into Spanish is a must:
1. Reach a new audience
As previously mentioned, there's a significant amount of Spanish-speaking residents living in North Carolina. An insufficient machine translation of your website means that there's a large audience that simply isn't getting your message. That's a lot of missed opportunities! It's not just North Carolina either – there's a huge global marketplace you could be missing out on. According to a study by Common Sense Advisory, the vast majority of consumers spent their online time on websites in their preferred language. If a consumer has difficulty understanding your website, they probably aren't going to convert into paying customers. A professional website translation gives you instant access to a brand new audience.
2. The data demands it
Have you looked at your Google Analytics lately? Under Audience, you can find visitor traits such as geographical location and language. If Spanish-speakers are already visiting your website, there's a good chance you need to step up your game with a professional translation. You can also use the corresponding behavioral data to determine if there are specific pages they are visiting. That way you can prioritize certain pages for translation.
3. Your industry demands it
Though we encourage businesses of all types to obtain a professional English to Spanish website translation, some industries simply demand or require it. If you have an e-commerce website that ships worldwide, having a professionally translated website is a no-brainer. International customers will be much more likely to purchase your product if your website is easy for them to understand. Other industries where a professional English to Spanish translation is needed include manufacturing, construction, government agencies, and websites that offer legal services.
4. Improve SEO
If implemented properly, multilingual or international SEO improves your website's ranking and visibility in searches. This just makes sense – instead of just going after keywords in English, you are also targeting them in Spanish. Right away you've increased your chances of being found! The English to Spanish Raleigh Website Translation Service includes Spanish keyword research, so you can be sure you are targeting the correct keywords. A professional translation also means that a Spanish-speaking user will be more likely to spend time in your website, which will significantly decrease your bounce rate and improve SEO.
5. Get an edge on the competition
With the prevalence of machine translators, there's a good chance that your competition doesn't have a professionally translated website. An accurate, professional website translation gives you an instant edge over your competitors. Your service and product information will be clear, making it far easier for Spanish-speaking clients to navigate your website and become paying customers.
6. Improve engagement and customer service
Providing a website with an accurate, professional English to Spanish translation is simply good customer service and adds an extra layer of engagement with potential customers. A poorly translated website can be frustrating and will easily alienate potential Spanish-speaking customers. Be that business makes the extra effort to cater to the Spanish-speaking community. This effort will be readily recognized and appreciated. This effort will surely be rewarded with increased conversion rates and loyal customers.
7. Demonstrate commitment to diversity, inclusion, and community
Along with customer service, the simple act of offering a professionally translated website demonstrates a commitment to diversity and inclusion. Spanish-speakers make up a large part of the local and global community. A professionally translated website will increase confidence in your brand and products. English-speaking customers will be more likely to share your website with Spanish-speaking friends and family members. This kind of commitment to the global community will do wonders for your reputation and you will be sure to win over lifetime customers.
Contact Your Spanish Translation Company Today
We're so excited that you are ready to commit to the Spanish-speaking community by offering a professionally translated website! The Spanish-speaking translators of English to Spanish offers two services to help you translate your website:
Our Website Translation service offers a complete professional translation of your website. We will even help you identify and implement the best Spanish SEO tactics to ensure searchability.
We also offer a Website Proofreading service for those who have already used a machine translation service and want to ensure accuracy.
Call us at 919-995-2986 or request a quote online today, below!
---